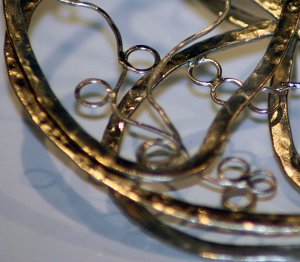 Hand Crafted, Bespoke Jewellery
If you would like to commission a unique piece of jewellery please do not hesitate to contact Sharon Spiers to discuss your requirements.
Craft & Design Workshops
Traditional Silversmithing, Enamelling, Mixed Media Jewellery and Accessories.
Workshops are offered to groups, or on a one to one basis. Programmes may be devised to suit the requirements of the individual.
Sharon has experience of delivering workshops in schools and is able to tailor craft and design activities to complement BTEC, GCSE portfolio work.
Workshops are a great party idea, whether it's for a, Birthday, Hen- party, or simply a get together. Why not socialise, learn a new skill, and take home a unique piece of jewellery. All activities can be tailored to suit specific requirements and budget.
Corporate workshops
Bring the away day to you. Workshops can be arranged to be delivered at the workplace if appropriate space is available. To discuss this please contact Sharon.